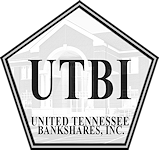 Press Releases
April 15th, 2013
July 15th, 2013
October 15th, 2013
January 15th, 2014
February 20th, 2014
March 15th, 2014
July 15th, 2014
January 15th, 2014
March 15th, 2014 Dividend Release
April 14th, 2015
July 15th, 2015
October 15th, 2015
April 15th, 2018
July 13th, 2018
October 15th, 2018
January 15th, 2019
March 15th, 2019
March 15th, 2019 Dividend Press Release
July 15th, 2019
January 17th, 2020
February 28th, 2020 Dividend Press Release
April 15th, 2020
July 15th, 2020
October 16th, 2020
January 15th, 2021
April 15th, 2021
July 16th, 2021
October 15th, 2021
January 15th, 2022
February 18th, 2022 Dividend Press Release
April 15th, 2022

Annual Reports
2015 Annual Report
2016 Annual Report
2017 Annual Report
2018 Annual Report
2019 Annual Report
2020 Annual Report
2021 Annual Report
United Tennessee Bankshares, INC.

United Tennessee Bankshares, INC. (the "Company") became the holding company for Newport Federal Bank (the "Bank") upon
its conversion from mutual to stock form (the "Conversion"), which was completed on January 1, 1998. Prior to January 1, 1998,
the Company had no assets or liabilities and engaged in no business activities. The Company's assets primarily consist of it investment
in the Bank.

The Company's executive offices are located at 170 W. Broadway, Newport, Tennessee 37821-2325, and its telephone number is
(423) 623-6088. Our web site is www.newportfederalbank.com.

The Bank was organized as a federally chartered mutual savings institution in 1934 under the name Newport Federal Savings and
Loan Association. Effective January 1, 1998, the Bank became a stock savings bank and changed its name to Newport Federal Bank.
The Bank currently operates through three full-service banking offices located in Newport, Tennessee. The Bank's deposits are insured
to applicable limits by the Federal Deposit Insurance Corporation ("FDIC").